Wednesday: After Hours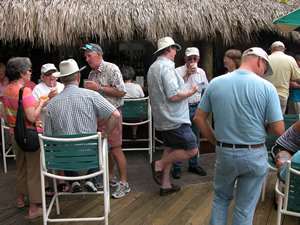 We began our evening social activities with a happy hour where your first beverage was on SOAPA. This event was held at the Tiki Bar at the Southernmost Hotel, and was a great opportunity to meet the folks that you would be spending the next two days with, and swap stories of our aviation exploits.
After happy hour, we all adjourned to Mallory Square to watch the sunset. Key West is a small place, about 2 miles by 4 miles if I recall correctly, and it was a short walk from one end of "town" (where our hotel was) to the other to reach the square.
Watching the sunset in Key West is an institution. A street fair of sorts sets up every night, where you can buy craft items, get your fortune told, watch jugglers and mimes, or many other street entertainers. Liza and I watched an escape artist suspend himself in full view, upside down, in a straight jacket and chains. He escaped from all of it in about 5 minutes. We also watched a man who had trained his dog to walk across a two rope tightrope, down a ladder, jump through a hoop and leap up to grab a dollar bill from a volunteer tourist. We had a great time.
Uh oh, now is where my memory starts to get fuzzy. Peyton McCool suggested a really excellent restaurant that many of us adjourned to from the square. I could not remember the name of it, but Liza jumps in here and says it was Blue Heaven. If you get to Key West, this is a great place to go, offering a selection of southern and caribbean dishes that got great reviews from all who were there.
Our luck was really with us this night. Blue Heaven is an almost entirely open air restaurant, but because of the size of our group, they seated us up in back on a platform overlooking the rest of the restaurant. This was lucky because a nice cell parked itself over the restaurant and dumped torrents of rain on everyone, customers, wait staff, etc except us! Our area was covered. Sometimes it is better to be lucky than smart... Thanks to Peyton for a great restaurant recommendation!
The group broke up from here to enjoy our first night of Key West nightlife. But I don't remember much of that...