After we left, the club had a pig roast, a comedian, a singer (Elvis impersonator, heard him warming up, quite good) and other entertainment in the evening. Folks camped near the clubhouse, and I guess some pilots unrolled their sleeping bags inside for the night. The next day I'm told there was a pancake breakfast, and the club invited the general public from the town of Nanaimo to join them to see flight demonstrations and ground events.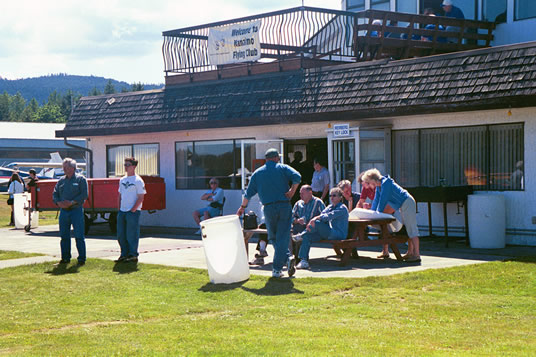 The only dark cloud over the event is one that we have been hearing more and more about across North America these days: insurance. The new airport manager apparently required an insurance policy that cost $3000, which is a big nut for the club to cover, and prevented the planned flour bombing and short field landing competitions. A few days later, a club member told me the club had lost money on the event. I hope they find a way to overcome this obstacle, I think the event is good for the town, good for the airport, and great for visiting pilots like myself.
They have a lot of community support for this event, most of the door prizes were donated by local merchants I think. It is great to see a small community so involved with its airport. Nanaimo is a great place to visit, and Liza and I plan to be back again, just to enjoy the spectacular scenery and friendly folks, not only at next years fly-in, but possibly later this summer, just as a fun destination.
Oh, and one final note. Some of you have asked about clearing Customs post 9/11. It is a bit different than it used to be. Before 9/11, Liza and I were GATE approved, and with CANPASS, it made border crossings in both directions effortless. We hardly ever saw a Customs agent. On this trip, we were told that every flight is met by an agent in Canada now, no more random samples. On the return trip, of course the GATE program is suspended. We cleared Customs in Nanaimo on the way in, and Bellingham on the way out, and it was effortless both ways. In Canada we got a lot of questions, but no search. The agent doing the questioning was obviously being trained by his partner, so that might have made him a bit more rigorous than usual. On the way back, the U.S. Customs agents in Bellingham were actually friendly and helpful, and the clearance was quick. I thought maybe I was coming back into the wrong country, because they were as nice as the Canadians, which has not been the norm in my past experience.
We wish we had attended the entire fly-in, and if bureaucracy and insurance don't kill it next year, we'll be back for the whole event! Thanks very much to Frank Benvin for being such a great host, and thanks again to Gord and his two sons Frank and Bill for helping push our airplane in and out and in and out and in and out…
More pictures from our flightline tour...click for larger: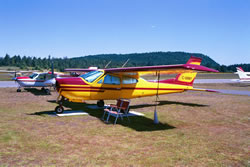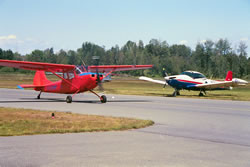 Seems like there was a Cardinal Fly-in too This airplane would be easy traffic to spot
There were many Cardinals...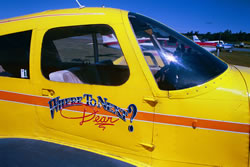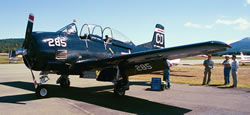 Pilot with proper marital attitude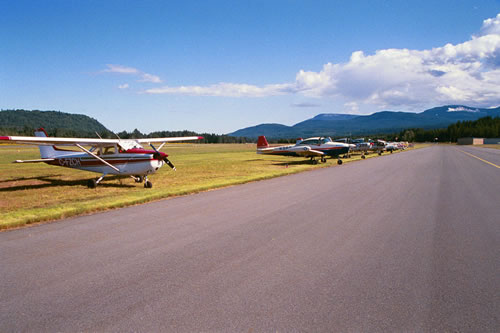 What a beautiful, beautiful place. Can't wait to go back...
(Previous page.) More pictures on club web site.