| | |
| --- | --- |
| | Lucaya Resort, Grand Bahama Island |
Skymaster/O-2 Meeting & Fly-in Scheduled for
May 16 - 18, 2007 in Lucaya, Grand Bahama Island
With Optional Visits to Daytona & a Bahamian Out-island on May 14 & 15.
Includes detailed agenda and other changes/additions (in blue text) made March 27.
For tips on printing this page please click here.
The dates, place and time have been decided for the sixth Annual Skymaster Meeting and Fly-in. The meeting will be on May 16th through the 18th, 2007 in Lucaya Resort, Grand Bahama Island, with optional social stops in Daytona Beach and a Bahamian out-island during the two prior days. The meeting is being presented by the Skymaster Owners And Pilots Association (SOAPA).
A great combination of topics and speakers is planned, covering a myriad of subjects of interest to Skymaster owners and operators. We'll have A&Ps intimately familiar with our aircraft, engineers who are experts on several facets of the Skymaster, experienced pilots who've been flying this aircraft for many years, and techies who are up to speed on the latest avionics. We are very fortunate that Pete Somers has agreed to be the year's Invited Speaker. Pete, an expert in the electrical systems of the Skymaster, is flying in from the U. K. and will host two meeting sessions and one hands-on session at the airport, and will participate in our now-famous "Shoot the Bull" session.
Borrowing a tradition started at the Key West annual meeting in 2005, we're also going to have a shootout of sorts: "The Great Handheld vs. Panel-Mounted GPS Debate". All of these Skymaster topics are presented further down this page in the agenda.
But it's not all work! Port Lucaya, next to the city of Freeport on the island of Grand Bahama, offers lots of activities for both attendees and significant others. Plentiful restaurants, taverns and shops fill Lucaya Marketplace, with a straw market adjacent. Nightly limbo contests with live Caribbean music are a sight to see -- how low can they go?? A visit to Paradise Cove at Deadman's Cay is a relaxing afternoon trip. There are casinos, international shopping, and island tours galore to occupy those motivated to leave the pool or beach. Like Key West (our 2005 Fly-in), Port Lucaya promises to be a vacation destination attractive to the whole family, worthy of vistiting even if the SOAPA Fly-in weren't there.
And of course the beaches, snorkeling and scuba are superb, as in any Bahamas destination, but in addition Port Lucaya boasts the renown UNEXSO snorkeling/diving adventures purveyor, featuring dolphin encounters, classes, even shark dives for the adventurous!
For more information about the event or about SOAPA, or to volunteer as a speaker, contact:



Paul Rooy by email or at 386-258-5008.
Ernie Martin by email or at 305-665-8352.
For questions regarding registration, payment, and hotel reservation password, contact:



Jerry DeSantis at 269-209-0809.
In addition to those named above, the following folks are among those who helped organize this meeting, and we thank them for their efforts:



Mary Lightfine (co-chair with Ernie & Paul)
Kathryn Bowdish
Larry Bowdish
Herb Harney
David Jarrett
Keven Kenison
Arrival at the Freeport airport (see airport and "getting-there" information further down this page) is planned for late Wednesday morning. Those who participated in the earlier stops at Daytona Beach and the Bahamian out-island will be coming en masse, while others will be arriving independently from the U.S. The meetings will then begin in the afternoon on Wednesday.
This provides an overview of the Agenda, with topics shown on the detailed table below. Note that some of the sessions -- those that deal with fun trips to the Amazon, Panama and the Bahamas -- are open to "Significant Others" and that the afternoon sessions will end by 17:00, allowing us lots of time to savor the many attractions of Port Lucaya.
The sessions on Wednesday afternoon will be followed in the early evening by a Poolside Skymaster Happy Hour -- first drink's on SOAPA!
The meetings continue on Thursday, covering exciting issues, including The Great GPS Debate: Handheld vs. Panel-Mounted session and other hot topics. Then on Thursday evening we'll have the now-famous SOAPA Fly-in Sunset Cruise. This year it will be aboard the Fantasia, which is famous for its "Mango Tango" sunset cruise. It includes all the rum punch and soft drinks we want, plus chicken wings, fish fingers or conch fritters, as well as a "cultural show" (conch salad making and limbo demo). And Paul has negotiated the beer down to 2 for $5.00!
Friday starts with morning sessions ranging from formation flying to Skymaster modifications to our now-famous "Shoot the Bull" session with engineering and A&P panelists. And Friday ends with a hands-on session at the airport headed by the A&P panelists (including Pete Somers). Those on a tight schedule can depart immediately following the airport session. The evening is free, and we hope many of the attendees will remain over the weekend or fly to other islands like Abaco (home of Treasure Cay, a 45 minute flight), or one of the out-islands.
The agenda table is presented below.
AGENDA -- Lucaya 2007

All sessions at Port Lucaya Resort & Yacht Club Tradewinds Café,
unless otherwise noted. Significant Others are invited to activities
marked with an asterisk*. Agenda is subject to change.

Wednesday
5/16
Approx. 12:00
Arrive at Freeport (MYGF), take van/taxi to Lucaya hotel
14:30-14:45
Registration
14:45-15:00
Welcome and Attendee Introduction
15:00-16:00
Skymaster Electrical Systems - What all pilots should know and in-flight troubleshooting
Pete Somers
16:00-17:00
The Best Flying Destinations in the Bahamas*
Greg Rolle, Bahamas Tourism Ministry
17:30-19:00
Skymaster Happy Hour* - first drink's on SOAPA
Pelican Bay Hotel pool deck Tiki Bar
Thursday
5/17
9:15-10:15
How To Buy a New 1964 Skymaster - A Pictorial Reconstruction
Ed Ernst & Walter Simendinger
10:15-10:30
Morning Break
10:30-11:45
How to Fly 3,100 Miles Up The Amazon Without Getting Eaten by Piranhas*
Paul Rooy & Mary Lightfine
11:45-12:00
Book signing of Paul's latest book "The Skymaster and the Piranhas"*
Paul Rooy & Mary Lightfine
12:00-13:30
Lunch Break
13:30-14:00
Working Skymasters - Mods, Pushing the Envelope & Applications
John Piowaty
Airscan Inc.
14:00-15:00
The Ins and Outs of Skymaster Electronic Systems - Instrumentation and Gages
Pete Somers
15:00-15:15
Afternoon Break
15:15-16:15
The Great GPS Debate: Handheld vs. Panel-Mounted - Which Is Better? Moderated by Keven Kenison
Pro-Panel-Mounted: Herb Harney
Pro-Handheld: Jerry DeSantis
16:15-17:00
Touring Panama by Light Aircraft - The Best Airports in Panama to Visit*
"Chachi" Fabrega, head of Panama FAA
18:00-18:30
Board Fantasia for the "Mango Tango" Sunset Cruise*
Pelican Bay Hotel Tiki Bar dock
18:30-21:30
"Mango Tango" Sunset Cruise aboard the Fantasia, a 72 foot double-deck catamaran*
Details in text above
Friday
5/18
9:00-9:30
Formation Flying Update and Michigan Flyers Latest Movie
Herb Harney
9:30-10:00
World's Best Skymaster STCs and Modifications
Ray Torres
10:00-10:15
Morning Break
10:15-10:30
SOAPA Business Meeting
10:30-12:00
SOAPA's Famous "Shoot-The-Bull" Panel Discussion; Moderated by Paul Rooy
Ernie Martin, Pete Somers, Ray Torres
12:00-13:30
Lunch Break
14:00-16:00
Airport Session Show & Tell. See the Ernsts' like-new '64 Skymaster. Show off yours. Pete Somers will cover electrical quirks. Formation flying by the Michigan Flyers.
Freeport Airport
After 16:00
Attendees Depart Freeport (or stay past Friday for some R&R)
* These activities are open to Significant Others.


Fun Activities for "Significant Others"

On top of the sunset cruise and poolside cocktail party mentioned earlier, plus the Skymaster sessions listed above as open to significant others, there is plenty more to do in Lucaya. As described earlier, there are lots of activities (shopping, gambling, diving, dolphin encounters, sailing, boat rentals, even horseback riding). Some of these activities should be reserved in advance, so Paul Rooy and Mary Lightfine have prepared a document for significant others with additional information and contacts.

Registration is $195 for each person attending the event if payment is received on or before April 16, 2007, and $250 per person for registrations received after that. The fee will cover the reception cocktail, meeting rooms and cleanup, meeting room coffee and tea, presentation equipment rental, and, last but not least, the sunset cruise.

For spouses and other companions not attending the meetings who wish to join us on our social outings, the fee is $100 per person if payment is received on or before April 16, 2007, and $125 per person for registrations received after that.

Registration is 100% refundable if notification is given to Paul Rooy or Ernie Martin by email by April 16, 2007. After that, refunds cannot be provided.

To register, please a) click on the registration page, b) either print the page and fill it out by hand, or save it (it's a Microsoft Word document) and fill it out in your computer, and c) send the filled-out page and your check to the address listed on the page.

Once your registration is received, your name will be added to the attendee list at the bottom of this page and Jerry DeSantis will call you or send you an email with the hotel reservation password.


Meeting Place

Our meetings will be at the Tradewinds Cafe in the Port Lucaya Resort & Yacht Club, a short walk from the two hotels listed below.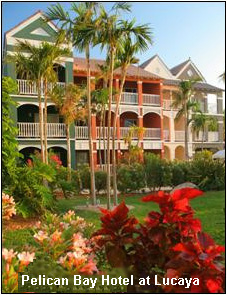 Hotels
Two hotel options are provided. Both are surrounded by water on three sides, are set amongst lush tropical foliage and feature such amenities as swimming pools, Jacuzzi and pool-side tiki bars.
Our headquarters hotel will be the Lucaya Port Pelican Bay Hotel. Located within steps of the hotel is the Lucaya Marketplace, with over 30 restaurants (including the award-winning Ferry House Restaurant), bars, shops, and nightly live entertainment. Also within steps of the hotel are the Dolphin Experience, scuba diving, snorkeling and deep-sea fishing. Immediately across the street are two miles of white sand beach, a full service spa, four "Grand Slam" surface tennis courts and a casino. In addition to walking, the beach may be reached via a complimentary water shuttle. The Wednesday evening Skymaster Happy Hour will take place at the hotel's poolside Tiki Bar overlooking Lucaya Bay towards the west -- bring your Aviator sunglasses! (and maybe a straw hat...)
Pelican Bay has granted us a discount rate of $109 ($122.08 after adding 6% tax & 6% resort levy), which includes daily continental breakfast, if reservations are made by SOAPA 2007 attendees before 4/15/2007. The hotel is only holding 25 rooms, so reserve early! These special rates are good for the nights of 5/16 - 18/2007, and will be extended to 5/19/07 for SOAPA attendees who wish to remain an extra night. Remember that only 25 rooms are being held at this price, so reserve early.
To make reservations at Pelican Bay, go to www.pelicanbayhotel.com and click on "Reservations". At the bottom of the next screen click on "Group Reservation". On the next screen log in using the Attendee Login Password which will be provided to you by Jerry DeSantis upon receipt of your registration materials. On the next screen click on your dates to darken them, including your departure date (make sure check-in and check-out dates listed above the calendar are correct), click on the room type (even though there is only one), select number of adults, and click on "Contact Information". On the next screen, check dates and price at the top, and enter personal and credit card information. Pelican Bay's phone number is 1-800-852-3702 or 1-242-373-9550; reference the 2007 SOAPA Fly-In and ask for Raine, Colleen, Terria or Marva.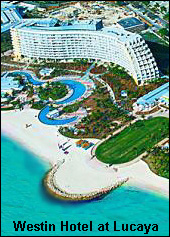 For those wishing to stay right on the beach -- as opposed to the bay side, where the Pelican Bay Hotel is -- the Westin Our Lucaya is available. It is the only beach hotel convenient to Lucaya Marketplace and our meeting room. Individuals wishing to stay at the Westin can make reservations directly with Westin Our Lucaya at 1-242-373-1333. Rates quoted varried between $185 and $368 depending on room location and what discounts (AAA, etc.) are available at the time of reservation.
If you would like to see the position of both hotels relative to each other and to the Lucaya Marketplace, please click here.
Transportation from the airport to Port Lucaya is by taxi or van. Inquiries are underway to see if a group deal can be arranged by van for those coming from Great Harbour Cay. Any information will be posted here when finalized. Within Port Lucaya, things are close enough that walking is the best means of transport.

Airport Information and How To Get There
Your arrival is at Freeport's controlled (towered) International Airport (MYGF). To enter The Bahamas, you will need whatever documents are necessary to re-enter the U.S. (specifically, an unexpired passport for U.S. citizens). If you fly your Skymaster to the meeting, MYGF is covered in Miami's Sectional Chart. Flying to and from Freeport or Great Harbour Cay is a breeze and Bahamian charges are minimal. Procedures may be found here for two VFR trips: direct to Freeport, or Great Harbour Cay and then Freeport. For those who don't want to fly their Skymasters to the meeting, there are commercial flights into Freeport, usually with a connection in Miami. But check with the organizers, because you might be able to fly into Florida and hitch a ride in one of the Skymasters.
Paul Rooy and Mary Lightfine have arranged an optional "See Daytona Beach Like a Native" stop on Monday evening, May 14. Following an afternoon arrival at KEVB in New Smyrna Beach, just south of Daytona Beach, there will be time in the afternoon for significant others to go on a shopping expedition and tour of the city with Mary while others can play boardwalk games or just relax at our oceanside hotel (below). Later we'll go to a sunset Happy Hour and dinner on an Intracoastal Waterway riverside restaurant facing west over the water, with live island music. We'll also do a "Flying to the Bahamas" briefing.
The headquarters hotel in Daytona Beach is the beachside Magic Carpet Motel. The hotel's heated pool overlooks the Atlantic Ocean surf, each room has its own balcony overlooking the ocean, and we've gotten terrific rates: $69 for a standard room and $79 for a studio room with kitchenette ($10 less if we take 10 or more rooms). Oh, did we tell you this includes morning breakfast and newspaper? Call 800-368-3224 or 386-767-7312 and ask for Pat or Darlene. The hotel is only holding 10 rooms, so reserve early!
Here are some additional details on the Daytona Beach stop. Tie-down at KEVB is only $3.00 at Vintage Props and Jets (604 Skyline Dr., New Smyrna Beach, FL, 386-423-1773, 800-852-0275) and self-serve fuel is available. For arrivals at around 14:00, Paul and Mary can provide transportation for one or two couples from KEVB to the hotel, if needed; call if you want a ride (386-258-5008), "first come, first serve". For the rest, call (or have the FBO call) First Class Taxi (386-424-9611), Silver Bullet Taxi (386-424-1444) or Enterprise Rent-a-Car (386-426-5336, they'll deliver a car to the airport, and the car can be dropped off at the airport, too). Pick-up at the hotel for the shopping expedition and tour of the city is at around 17:30, and we leave for cocktails and dinner at around 19:00. We'll do a "Flying to the Bahamas" briefing and then our dinner speaker, CarolAnn Garrett, will tell us about her 6 month long circumnavigation of the world in a Mooney, the topic of her recent book, Upon Silver Wings, and will do book-signing. The next morning, departure from KEVB for Great Harbour Cay (MYBG) is planned for around 10:00. If you would like a tabulated schedule of these activities, please send Paul a message by email.
On Tuesday, May 15, we've planned an optional stop in Great Harbour Cay, a small Bahamian out-island. Mid-morning arrival with lots of time to lounge in one of the most beautiful beaches anywhere. Optional boat trip to the fabled Blue Hole. Evening drinks at the beachside Villas where we're staying, then dinner at the Pool Bar by the Marina. Departure for Freeport is mid-morning Wednesday, after breakfast at the beachside Beach Club (superb eggs, bacon and grits). For more information on the island (including the Blue Hole, Beach Villas, Pool Bar, and Beach Club) please click here.
The Beach Villas (which can be seen in the link above) are townhouses right on the beach. Costs are being negotiated, but each townhouse is expected to cost around $120 -180 per couple. Simple one-bedroom units facing away from the ocean should run around $120. The units facing the beach are typically two- and three-bedroom units and, when shared, should run $120 - 180 per couple. Additional information on lodging and ground transportation will be posted here when finalized.
The attendee list appearing below shows people already registered.
Attendee List, Lucaya 2007

Name
Data*
From
Aircraft
Notes
Larry Bowdish
1/0/N/N
Michigan
w/DeSantis
Confirmed/Registered
Keven & Allie Kenison
1/1/N/N
S. Carolina
'66 337A
Confirmed/Registered
David & Yvonne Jarrett
2/0/Y/Y
Montana
'76 P337G
Confirmed/Registered
Ernie & Inita Martin
1/1/?/Y
Florida
'73 337G
Confirmed/Registered
Paul Rooy & Mary Lightfine
2/0/Y/Y
Florida
'68 T337C
Confirmed/Registered
Jerry De Santis
1/0/N/N
Michigan
'75 P337G
Confirmed/Registered
Ray & Ana Torres
1/1/N/N
Florida
'65 337
Confirmed/Registered
Peter & Ana Casas
0/2/N/N
Florida
'65 337
Confirmed/Registered
Herb Harney
1/0/N/N
Michigan
w/DeSantis
Confirmed/Registered
Walter & Jean Simendinger
2/0/Y/Y
New York
'64 336
Confirmed/Registered
Ed Ernst & Angela Norton
1/1/Y/Y
New York
'64 336
Confirmed/Registered
Peter Somers & Jean Fryer
1/1/Y/Y
England
Commercial
Confirmed/Registered
Wayne & Dianne Craw
1/1/Y/N
Montana
'74 337G
Confirmed/Registered
James Simms & Edie Gillis
1/1/Y/Y
Maryland
'74 T337G
Confirmed/Registered
John & Dana Piowaty
1/1/N/N
Florida
Commercial
Confirmed/Registered
Robert & LeAnn Werve
1/1/N/?
California
Commercial
Confirmed/Registered
John Marsalis, Gerie Stanko
1/1/N/N
Nevada
T337G
Confirmed/Registered
Tom & Beth Fiala
2/0/?/?
Tennessee
T337G
Confirmed/Registered
* Data = # of Participants / # of Significant Others / Going to Daytona / Going to Out-island
Please send corrections or additions to any content on this web page to Ernie Martin by email.
To print a copy of this page click File, click Print Preview and check that you are not missing any of the text at the right edge of the page; if you are, reduce the left and right margins to zero in File, Page Setup. If you only wish to print part of this web page (the Agenda table, for example), determine the page numbers in Print Preview and print only those pages.
Please read credits and disclaimers below.